One-stop service for industrial robotic system integration
With a professional engineering team JSR is in a better position to configure a solution tailored for you fabrication needs.
Rich experience and worldwide trusted
With over 10 years experience, over 1000+project, served many world top branding manufacturer for their automation upgrading
Good price and fast delivery
With our large scale of sales, we keep a high stock turnover and so we are able to provide you a good price with fast delivery. For certain models robots are ready to ship. All our industrial robots manufacturing date is within latest 1-2 months.
Shanghai Jiesheng robot is a first-class distributor and maintenance provider authorized by Yaskawa. The company's headquarter is located in Shanghai Hongqiao Business District, production plant is located in Jiashan, Zhejiang.
Jiesheng is a high-tech enterprise integrating R&D, manufacturing, application and service of welding system. Main products are Yaskawa robots, welding robot systems, painting robot system, fixtures, customized automatic welding equipment, robot application systems.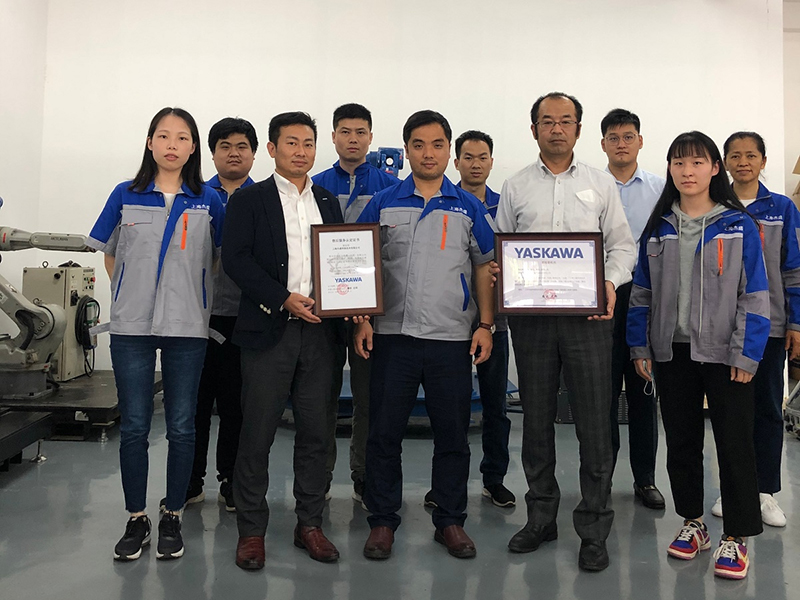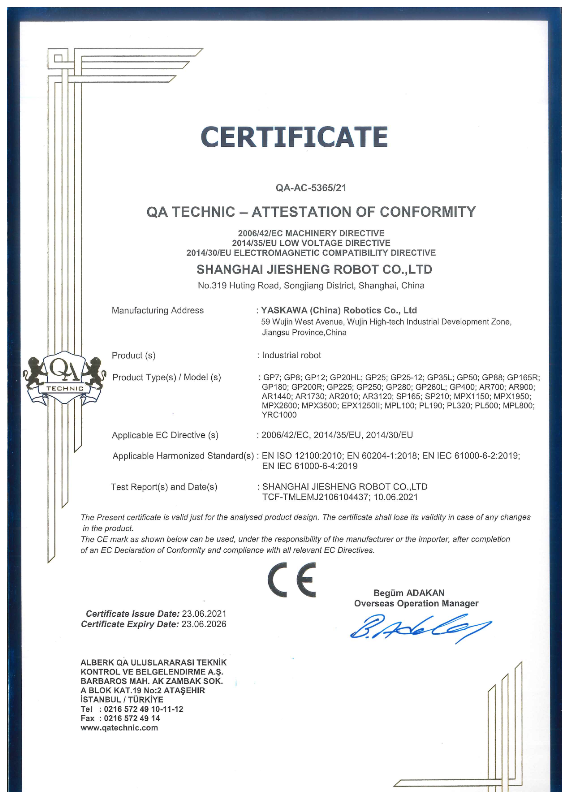 Yaskawa Industrial Robots, founded in 1915, is an industrial robot company with a century-old history. It has a very high market share in the global market and is one of the four major families of industrial robots.
Yaskawa produces about 30,000 robots every year and has installed more than 500,000 industrial robots worldwide. They can replace manual labor to complete many operations quickly and accurately. The robots are mainly used for arc welding, spot welding, processing, assembly, and painting/spray.
In response to the huge market demand for robots from all walks of life in China, Yaskawa established a company in China in 2011, and the Changzhou factory was completed and put into production in June 2013, giving full play to China's advantages in the supply chain and greatly shortening the delivery time. The Changzhou factory was established in China, radiating to ASEAN, supplying to the world.
Products are widely used in arc welding, spot welding, gluing, cutting, handling, palletizing, painting, scientific research and teaching. Provide automation equipment design, installation and after-sale services for auto parts manufacturers.
Company strategy: Provide Chinese automation solutions for global customers;
Our philosophy: Become a high-quality supplier of robotic automation equipment;
Our value: Competitive team, pioneering and enterprising, continuous innovation, and the courage to challenge;
Our mission: We provide customers with high-quality products and high-quality services;
Our technology: Supported by a senior technical team.
Headquarters address: No. 319, Huting Road, Songjiang District, Shanghai